Perhaps the properties which are most rare in Bangkok are loft style. Loft style condos are a stark contrast to much of the Bangkok real estate market which consists of the dreaded small, shipping container-like condos arranged in beehive like buildings. Other than specialty units or exclusive top-shelf high luxury buildings and of course the top floor penthouses which make up a very small (and expensive) minority of the overall Bangkok real estate market, loft style condos and actual lofts are very rare. If we had to put a number on it, we would say that less than 1/4 of 1% of Bangkok condos are or could ever be a true loft condo.
The Difference between a True Loft, Duplex Loft and Faux-Loft /Loft Style Condo
The terms are often used interchangeably for most people who refer to condos with a 'loft style' but when it comes down to it there are distinct subtleties that make a big difference when it comes to choosing a property to rent, buy or renovate.
---
True Loft 
A true loft is usually a single floor unit which has a large, undivided high volume space. Because the large open space has only a single floor, the designers usually chose to create a 'loft' or mezzanine (an intermediate floor, not counted among the overall floors of a building)  which serves as a bedroom. In most of the Western world, true lofts usually derive from the conversion of large industrial spaces such factories, warehouses and mills.
Examples of True Lofts in Bangkok
---
Loft Style Duplex
The most common type of loft style condo in Bangkok are loft style duplexes. Duplex units occupy 2 floors and have various layouts some which offer vast open spaces and high ceilings which the owners can relatively easily convert to loft style. Even if there is not a lot of open space, it is an option to knock down some parts of the second floor to open up the space.
Examples of Bangkok Loft Style Duplex Condos
---
Faux Loft – Loft Style Condo
A loft style condo simply refers to a regular unit which was renovated to showcase what people refer to 'loft' or industrial style. Transforming a plain, regular condo into loft style can involve a number of things from simply choosing loft style decor and painting to renovating various aspects of the unit such as tearing down walls to accentuate floor space and extending the vertical space by exposing the bare ceilings. The best candidates are Bangkok's older buildings which have larger units at fair prices.
Examples of Faux Loft – Loft Style Condos
---
Why there are so few Loft Condos in Bangkok?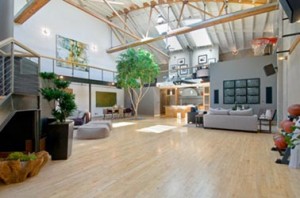 The primary reason why there are very few loft style properties in Bangkok is simply because there has never been enough demand. The loft style condo became trendy and popular in large Western cities which had an abundance of industrial commercial buildings in their downtown areas. When the industries dried up or were replaced with newer technologies the buildings were left vacant which brought on real estate developers who could easily convert these large open warehouse style spaces into voluminous lofts apartments.
Almost all of the condominium buildings in Bangkok were built from 1994 and forward and during all that time, there never was (and probably never will be) a big enough market for large, loft condos to justify a real estate developer building them instead of standard condos which cater to the growing Thai middle class. It simply just does not make sense financially for a developer to build for example a condo with 20 loft units over 8 floors when they can build 140 one & 2-bedroom units.
The reason for the lack of voluminous true lofts and loft style duplex units carries on to the smaller, less expensive units. The demand for standard layout unit, faux loft/loft-style condos is not great enough for most investors to spend the time and money to create them. This is why you see very few loft style condos for rent and sale in Bangkok. While they certainly exist, the fact that most property owners who to take the time and spend the money to create a cool, unique loft style condo will live there themselves. The moral of the story is, if you see a loft style condo you like in Bangkok, it is a good bet there are not many more to choose from.
---
Bangkok Loft Penthouses & Duplexes
If you are financially capable and really want loft style condos in Bangkok, the best and perhaps most obvious place to look is at Bangkok's penthouses and duplex. With these types of units you will more often than not get enough space to be an open canvas to your loft style dream home