Chong Nonsi BTS Station – Sathorn Real Estate, Living & Condos Guide
Chong Nonsi BTS station which connects to the BRT (Bus Rapid Transport) system is located at the end of Bangkok's central business district (Sathorn). The condos and luxury residences near the Chong Nonsi BTS are some of the most luxurious in all of Bangkok.  Being within close proximity to the CBD, residences near Chong Nonsi represent a prime location for many of Bangkok's elite business people to reside.
The high-rises which reside in the area of Chong Nonsi BTS have some of the very best urban city views in all of Bangkok. The Chong Nonsi BTS is going to be home to the Ritz Carlton residence which will surpass all other condominiums in Bangkok and be Bangkok's most prestigious residence. The building will be finished sometime in 2014 and will become Bangkok's tallest building  (314 metres (1030 ft) and 77 floors) and likely the most expensive real estate in all of Thailand.
Notable Places near Chong Nonsi BTS Station
Shopping near Chong Nonsi BTS Station
International Schools / Universities near Chong Nonsi BTS

Bangkok Christian College
New Sathorn International School
International Community School
Kwongsiew School

Hospitals in Close Proximity to Chong Nonsi BTS

BNH Hospital
St. Louis Hospital
 Residences Near Chong Nonsi BTS Station: Silom Condos
Empire Place
The Seed Mingle (Sathorn soi.8)
The Breeze (Naratiwat Ratchanakarin Rd.)
Lumpini Park Riverside-Rama3
Maple House (Naratiwat-Ratchanakarin soi.10)
The Sukhothai Residence
Belle Park Narathiwas
Unico Grande Sathorn
The Met
The Ascott Residences
Sathorn Garden
Pearl Garden
Silom Lofts
Sathorn Seven
Life Sathorn
Urbana Sathorn
The Infinity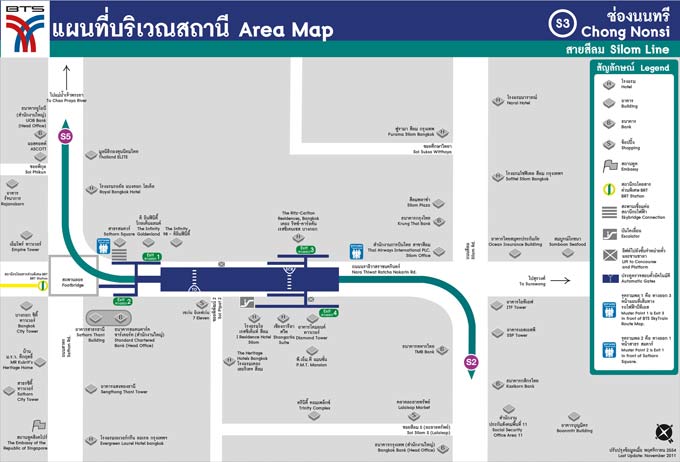 Chong Nonsi BTS Station Street View