We strive to make your Bangkok real estate search and inquiries as efficient and easy as possible. This quick visual tutorial will show and explain how to make the most out of your Siam Home Source web browsing experience.
Bulk Property Inquiry Instructions
In addition to sending inquiries about one property at a time you can send bulk inquiries. While you're searching and browsing through the SiamHomeSource website you can save as many properties you like to your favorites page. You can save each property you are interested in to a 'favorites' page which you can add/remove properties to, and inquire about all at one time. Note: Your Favorites Page is saved automatically as long as you continue to use the same web browser.
Step 1: Save Favorites
Each Bangkok property listing on SiamHomeSource has a save button on the top right of the header image. If you find a property you are interested in simply click the '★save' button and it will add it to your favorites page.
Step 2: Add More Favorites
Each time you click the '★save' button on a property page the button will change to '★favorites' and you will see a red number ➒ appear on the button with the number of favorites you have.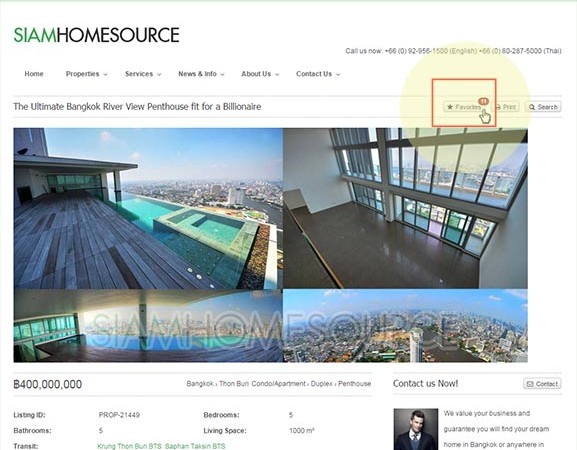 Step 3: Manage  Favorites
Once you see the '★favorites' button appear with the number of favorites you have selected, you can click on it and you will automatically be directed to your favorites page. This page will have all the properties you have selected so far. From your favorites page you can remove properties simply by clicking the ☒ button.
Step 4: Submit Multiple Property Inquiry
On your favorites page you will notice a contact button on the top right of the page. To send a property inquiry with all the properties in your favorites just click the contact button and you will be redirected to the contact page (below) with all your favorite Bangkok properties embedded.
Step 5: Submit Full Inquiry
After you clicked the contact button from your favorites page you will see the contact form with all the properties in your favorites list embedded. Simply fill out all the fields in the contact form and your entire list of favorite properties will be inquired about.
Alternative Options
If you have specific criteria you are looking for in Bangkok rental and sale properties and there are not enough properties of interest on the site, you can send a specific, detailed general inquiry in. This inquiry will allow Siam Home Source Bangkok real estate agents to search through our extensive databases to find properties which are not listed. We cannot list all properties as there are 100s of thousands of rental and sale properties in Bangkok. We may not list some properties for various reasons including lack of quality photos, lack of current photos, unsure availability dates, odd location, etc.
Calling Us
It is best to either send a specific property inquiry or take 30 seconds to fill out one of our detailed questionnaires before you call in. This will give us a very good idea of the type of Bangkok property you're looking for as well as help the phone conversation be as efficient as possible.
*Before you Contact us Please Note
Siam Home Source real estate cannot guarantee the immediate availability of the properties on our website and/or partner sites. Properties in the Thailand real estate market change hands fast & most of the time without notice. Please contact us for up-to-date information on each property.